2020 Incidents
JAN
17
FEB
18
MAR
18
APR
15
MAY
19
JUN
JUL
AUG
SEP
OCT
NOV
DEC
Total
87
2019 Incidents
JAN
27
FEB
27
MAR
26
APR
33
MAY
27
JUNE
20
JULY
33
AUG
29
SEPT
15
OCT
20
NOV
18
DEC
25
Total
300
2018 Incidents
Jan
32
Feb
23
March
54
April
26
May
28
June
19
July
29
Aug
22
Sept
36
Oct
29
Nov
26
Dec
31
Total
355
2017 Incidents
Jan
20
Feb
34
Mar
21
Apr
27
May
28
Jun
17
Jul
18
Aug
28
Sep
18
Oct
29
Nov
20
Dec
25
Total
285
2016 Incidents
Jan
29
Feb
45
Mar
17
Apr
24
May
16
Jun
25
Jul
16
Aug
26
Sep
23
Oct
25
Nov
26
Dec
23
Total
295
Past Incidents
2019
300
2018
355
2017
285
2016
295
2015
307
2014
274
2013
273
2012
330
2011
340
2010
287
Web Counters
Website Visitors
Since
April 23, 2010

Visitors Today
May 26, 2020

5 of Millwood's Bravest Graduate the Fire Academy
By Webmaster
January 25, 2019
The Millwood Fire Co. and Fire District would like to congratulate 5 of our members for graduating from the New York State Firefighter 1 program yesterday evening. These members, along with more than 60 others, completed over 120 hours of training at the Westchester County Fire Training Center in Valhalla.
We would like to congratulate Probationary Firefighters Jon Doyle, Aron Zhao, Matt Eiden, Dominic Raguso and Arton Mekuli for this incredible achievement. In attendance at the ceremony was Ex-Chief Greg Santone, 1st Assistant Chief Jan Schwark, 2nd Assistant Chief Frank Nestro, Chief Jorge Rodrigues and Captain Chris Raguso.
Congratulations and stay safe!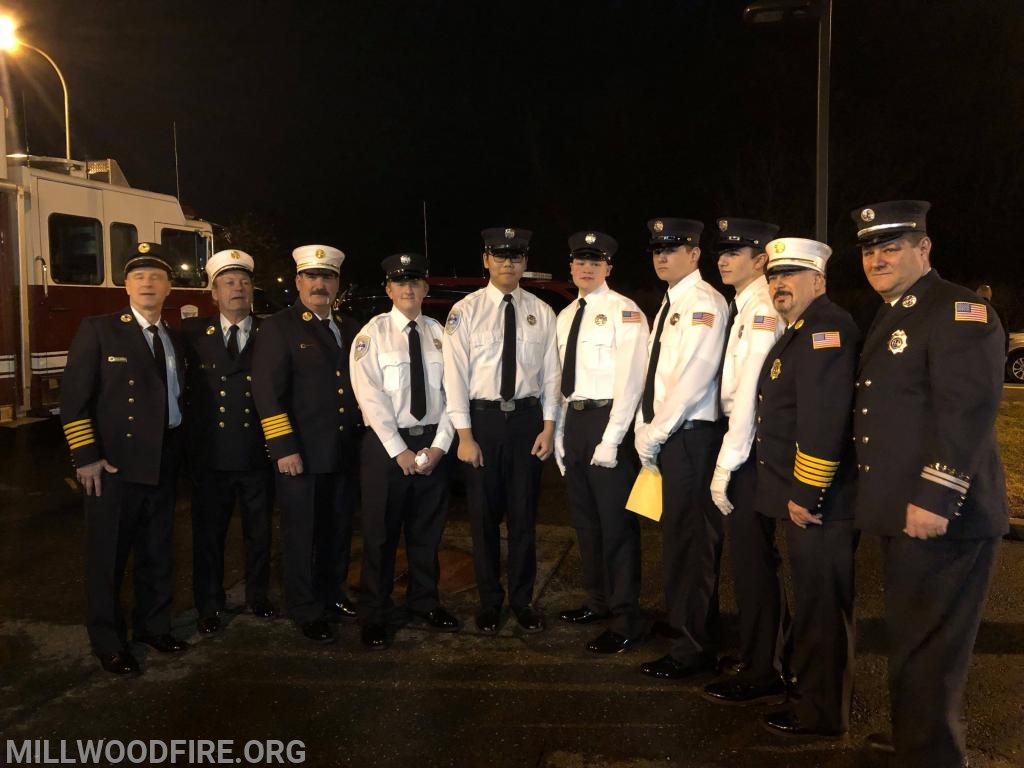 (Left to Right) Ex-Chief Greg Santone, 1st Assistant Chief Jan Schwark, 2nd Assistant Chief Frank Nestro, Probationary FF Jon Doyle, Probationary FF Aron Zhao, Probationary FF Matt Eiden, Probationary FF Dominic Raguso, Probationary FF Arton Mekuli, Chief Jorge Rodrigues and Captain Chris Raguso