2017 Incidents
Jan
20
Feb
29
Mar
Apr
May
Jun
Jul
Aug
Sep
Oct
Nov
Dec
Total
49
2016 Incidents
Jan
29
Feb
45
Mar
17
Apr
24
May
16
Jun
25
Jul
16
Aug
26
Sep
23
Oct
25
Nov
26
Dec
23
Total
295
2015 Incidents
Jan
26
Feb
26
Mar
18
Apr
27
May
24
Jun
20
Jul
36
Aug
25
Sep
22
Oct
25
Nov
30
Dec
28
Total
307
Past Incidents
2014
274
2013
273
2012
330
2011
340
2010
287
2009
203
2008
224
2007
262
Web Counters
Website Visitors
Since
April 23, 2010

Visitors Today
Feb 21, 2017

Welcome to the Official Website for the Millwood Fire Company
Town of New Castle, NY - Hamlet of Millwood
100% VOLUNTEER FOR 93 YEARS!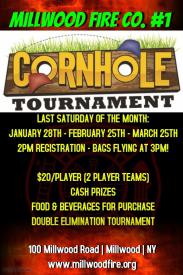 3RD ALARM FIRE BRINGS MILLWOOD LADDER, TANKER AND ENGINE TO MT. KISCO YESHIVA FARMS

Webmaster, February 17

On Friday evening around 6:20pm, Millwood FD was requested to the Yeshiva Complex in Mt. Kisco with Tanker 15 for a reported structure fire along with Yorktown Heights Volunteer FD Tanker 14. Upon the arrival of Mt. Kisco chiefs, a 10-75 assignment (working fire) was dispatched, bringing Millwood Engine 248 to the scene, as well as a FASTeam and tanker from Bedford Hills Fire Department, and a tanker ... (Full Story & Photos)

A VISIT TO SEE THE FINAL TOUCHES OF OUR NEW RESCUE ENGINE

Webmaster, February 16

Our brand new Rescue 36 is almost done! Members of the truck committee visited the KME Fire Apparatus plant in Pennsylvania to check on the progress of our new rescue, replacing our 1990 Ford rescue truck. Expected delivery date is about four weeks! We cannot wait for the arrival of this much anticipated piece of apparatus.

Photos by Chief Greg Santone... (Full Story & Photos)

COLD WATER AND ICE RESCUE DRILL AT STILLWATER LAKE

Webmaster, February 14

For this week's drill, Millwood members went to Stillwater Lake to conduct cold water and ice rescue training. Members conducted multiple evolutions including how to conduct a rescue on a thin ice surface, broken ice and when a victim is fully submersed in cold water. This is a very important topic for Millwood members, as we have many lakes, rivers and streams in our district. Thanks to the members ... (Full Story & Photos)

PACKED HOUSE IN MILLWOOD FOR CPR/AED TRAINING

Webmaster, February 07

Great attendance at this years CPR/AED recertification class at Millwood Fire HQ!!! The time and attention to this important, life saving training shows clearly the commitment of Millwood's Volunteer Firefighters and the high value they place on the lives of the citizens they serve.... (Full Story & Photos)

ENGINE REQUESTED TO EARLY MORNING CAR FIRE ON THE TSP IN YORKTOWN

Webmaster, February 05

Just after 2am, Millwood FD was dispatched mutual aid to Yorktown Heights Volunteer FD for a fully involved motor vehicle fire on the Taconic State Parkway. Car 2251 (Chief Santone), Car 2252 ( Chief Rodrigues ) Engine 247 and 248 arrived on scene and assisted Yorktown members with fire suppression and hazard mitigation efforts. Units were back in service within the hour.... (Full Story)




Total Alarms as of 01/31/2017: 20
Top 10 Responders:
1) Greg Santone * # ( Chief - EMR ) 20

6

)

Robert McCarthy ( 2nd LT. - EMT ) 10

2)

Jorge Rodrigues ( 1st Asst Chief -

EMR

) 16

7)

James Kendall * # ( Driver ) 10

3) Frank Nestro * chappaqua ( Captain ) 13

4) Michael T. Horan * # ( Safety Officer ) 13

9)

S. Bruckenthal, R. Rich, LT. C Raguso 7

5) Jay McCarthy ( Driver - RN ) 11

10)

Charles Canero

*

#

( DTI ) 7
*
Former Chief of Fire Department
EMR
- Certified Emergency Medical Responder
#
Life Member
EMT
- Emergency Medical Technician
RN
- Registerd Nurse

Your feedback is important to us! Feel free to sign the
Guestbook
.