Welcome to the Official Website for the Millwood Fire Company
Town of New Castle, NY - Hamlet of Millwood
100% VOLUNTEER FOR 93 YEARS!

RESCUE 36 WETDOWN UPDATE:
**Dry Event - Please no apparatus from our neighbors**
LOCATION:

100 Millwood Road (Station #1)
Food - Beverages - Music - T-shirts for sale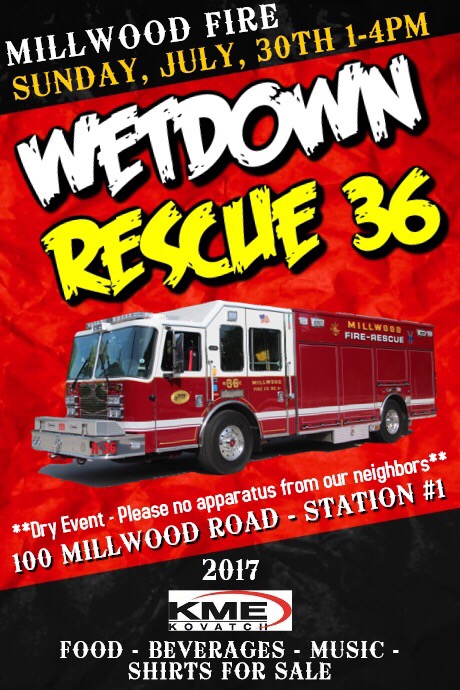 MILLWOOD FIRE EXPLORERS POST 2259

Webmaster, July 20

The Millwood Fire Company Fire Explorer Post is a youth organization sponsored by the Millwood Fire Company, and chartered by Learning for Life & the Boy Scouts of America. The Millwood Fire Company is designated as the Chartered Organization. The Fire Department will manage the Fire Explorer program through the Explorer Post Committee.

Exploring is the work-based program of the Boy Scouts of America ... (Full Story & Photos)

WATER RESCUE DRILL AT STILLWATER LAKE

Webmaster, July 11

For this week's Tuesday evening drill, members went to Stillwater Lake to practice water rescue techniques. Members learned where the water rescue equipment is on each truck, deploying throw bags, and how to properly deploy our boat to perform a rescue on a swimmer in distress. As it is hurricane season and Millwood is host to over 20 bodies of water, it is vital that members practice these skills.... (Full Story & Photos)

TWO CAR MVA ROLLOVER ON THE TSP

Webmaster, July 05

Just before 3pm on Wednesday, Millwood FD was dispatched with the Ossining Volunteer Ambulance Corps to the Taconic State Parkway at Pinesbridge Road for a reported motor vehicle accident with a rollover. Units arrived on scene to find one vehicle rolled over blocking the left and center lanes. Upon the arrival of Rescue 36, members assisted with traffic control and hazard mitigation. Units were back ... (Full Story & Photos)


Photos by Greg Santone

MVA WITH INJURIES ON ROUTE 133

Webmaster , June 14

Just after 11am on Wednesday morning, Millwood FD was requested to a reported motor vehicle accident with injuries on Route 133 with Chappaqua Volunteer Ambulance Corps and Westchester EMS 45Medic1. Car 2252 (Chief Schwark) arrived on scene reporting a two car accident and requested the road be closed. Chappaqua VAC arrived on scene and transported one patient. Units were back in service within 45 ... (Full Story & Photos)

MILLWOOD VOLUNTEERS CONDUCT EXTRICATION DRILL

Webmaster, June 13

Yesterday evening for our weekly drill, members conducted a mock extrication. Members began by discussing scene safety, then went into the extrication by stabilizing the vehicle, cutting the battery, removing all glass, removing all doors and later the roof. These are vital skills, as we receive many calls for motor vehicle accidents on our local roads and the Taconic State Parkway.... (Full Story & Photos)

Total Alarms as of 06/30/2017: 147
Top 10 Responders:
1) Greg Santone * # ( Chiefs' Aid - EMR ) 141

6

)

Paul Levi ( 3rd Lieut. -

EMT

) 75

2)

Jorge Rodrigues ( Chief -

EMR

) 128

7)

Robert McCarthy ( 2nd Lieut-

EMT

) 75

3) Frank Nestro * chappaqua ( 2nd Asst. Chief ) 112

8

)

Michael T. Horan

*

#

( 1st Lieut ) 63

4) Jan Schwark * # ( 1st Asst. Chief ) 95

9)

James Kendall

*

#

( Driver ) 63

5) Chris Raguso ( Captain ) 77
*
Former Chief of Fire Department
EMR
- Certified Emergency Medical Responder
#
Life Member
EMT
- Emergency Medical Technician
RN
- Registerd Nurse

Your feedback is important to us! Feel free to sign the
Guestbook
.